F24 Subsidiary
F24 Schweiz AG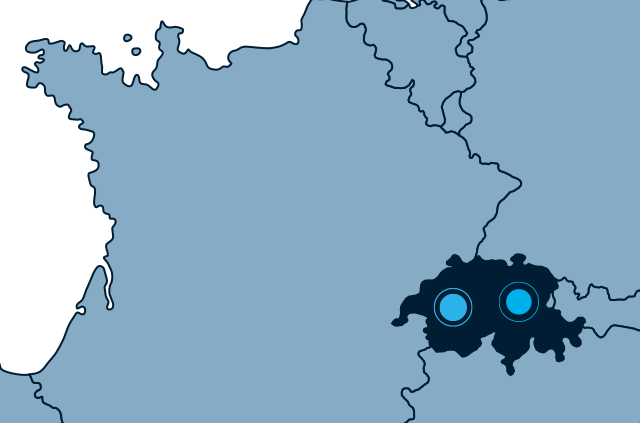 F24 in Switzerland
F24 Schweiz AG (founded in 1997 as Dolphin Systems AG) with offices in Wollerau (Canton Schwyz) is member of the F24 Group since 2016. The company employs over 30 highly qualified staff and has over 25 years of experience in telecom and IT solution implementation, project management and software engineering. F24 Schweiz AG is ISO/IEC 27001:2013 certified.
In addition to the office in Wollerau, there is a branch office in Western Switzerland. SMSup Sàrl from Marly (Canton Fribourg), which specialises in SMS marketing with its employees, became a subsidiary of F24 Schweiz AG in 2022 and merged with it to form F24 Suisse SA in 2023.
The management board consists of Yves Pierre Grepper, Renate Helbling, Stefan Götschi and Reto Caderas.
Yves Pierre Grepper is Managing Director and Vice President Business Messaging at F24 Switzerland. He has many years of experience in the management and transformation of marketing departments in the digital environment.Renate Helbling is responsible for Finance & HR at F24 Switzerland. She has many years of experience in leading teams in accounting, controlling, tax in international companies and in managing fiduciary mandates.
Stefan Götschi is as Managing Director and Vice President Business Messaging also responsible for the further development of F24 Schweiz's products and operation of its platforms. He has many years of experience in agile software development in hybrid and complex environments.
Reto Caderas is Managing Director at F24 Schweiz AG. In this role, he is responsible for the sales and marketing activities of the Business Continuity & Crisis Management service portfolio in Switzerland.
Information and documents about F24 Schweiz AG for download
• UID: CHE-107.385.374 VAT
Documents for download
Contact information:
F24 Schweiz AG
Samstagernstrasse 45
8832 Wollerau
Switzerland
You can reach us by telephone:
Monday – Thursday
8 – 12 am
1.30 – 5 pm

Phone: +41 (0)44 787 30 70
Telefax: +41 (0)44 787 30 71
E-mail: office_ch@f24.com



Friday
8 – 12 am
1.30 – 4 pm

Do you have any questions? Get in contact with us.
Integrated solution for proactive crisis management and emergency notification
Professional solutions for business communication via text messaging, fax and push mail
Find out more about our products now