Pandemic Preparedness for Businesses
The COVID-19 pandemic has had tremendous impact on global business for more than two years. Now that we are starting to come out of the pandemic, it's important to not lose sight of any possible future recurrences. After all, preparedness is at the core of business continuity for any kind of disease outbreaks.
Crisis Management during a Pandemic
During a global crisis like a pandemic, having a centralised system can be extremely helpful in managing the entire process of crisis management: from preventive measures, crisis monitoring, alerting of staff, to ad hoc coordination within the crisis team, secure communication via app, delegation of tasks, and documentation of all events – imagine managing all these and more at an international level and for multinational teams.

Do you need to alert several thousand employees at the touch of a button?
Do you need to alert them based on location?
Do you need an information hotline for customers to handle high call volumes?
Do you need to work together on the next situation report regardless of all being in different locations?

How Well Prepared is Your Company for Another Wave of Infection?
Learn How Our Smart Solutions can Help You!
Fill in you personal Data
More than 5.500 Customers from All Industries
Trust the Services of F24 in Critical Situations.
Networked Action during Global Crises
From our past experience we have learnt how devastating the pandemic can be – disrupting all kinds of business processes, creating immense pressure on the crisis managers. From IT, facilities management, to human resources, communication, and production – the entire company is forced to accommodate the changes that a global crisis brings.
In this situation, forward-looking planning and networked working is the basis for good crisis management, because everything is interrelated and interdependent. That's why we placed particular emphasis on professional preparation, straightforward application and well-thought-out collaboration features when we were developing our solutions.
"During this evolving situation it's very important for companies to monitor the situation closely, things are going to be changing on a daily or even hourly basis and it's going to be very important to avoid confusion within your organisation."
Martin Petts, F-24 UK Ltd.
Watch Video
Introduction to the COVID-19 Series
Martin Petts offers an introduction and overview of the new video series COVID-19 'Preparing for the next wave' and what you can expect in the future videos.
In this 7-part video series, Martin talks about the learnings from the past years of pandemic and what to expect in the future so that you can prepare better. Watch it here to understand the steps of preparation.
Related Solutions
Product Explorer
Find solutions that can suit your needs in case of emergency.
F24 SaaS-Solutions
Check out our range of smart solutions.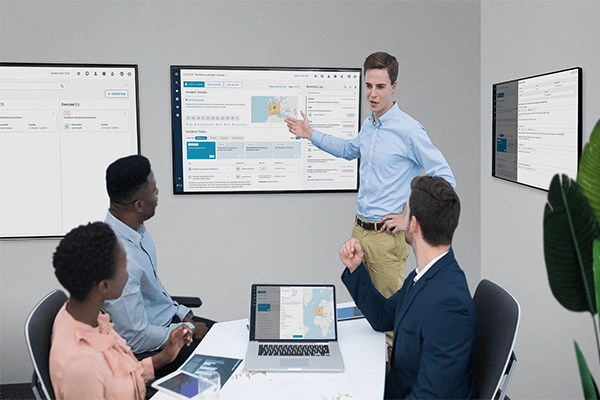 Crisis Response
Prepare and manage your crisis response with our smart solutions, designed specifically for critical situations.
Stay Prepared for Pandemics with Smart Solutions
With F24's solutions you can act preventively, collaborate in a seamless manner during a crisis and document your crisis management journey after. Simply put, we have combined 20 years of experience into crisis management and emergency notification solutions to support you in crisis prevention, response and recovery. Get in touch for an obligation-free appointment with an expert from F24 to learn how your organisation can benefit from our SaaS solutions.
Learn How Our Smart Solutions can Help You!
Fill in you personal Data