Upgrade to Smart Security Solutions!
Your business can easily leverage the power of technology and IoT while dealing with incidents. Integrate new and existing security devices with powerful specialist software to stay prepared.
Security Solutions for Crises and Emergencies
Smart security can reduce manual work by monitoring infrastructure and buildings automatically, reducing the need for physical inspections. When, for example, an intruder is detected, smart security can think for itself to a certain extent – e.g., triggering sensors and lights, activating alarm systems and blocking access to other areas. Let smart technology support your business efficiently.
Alerting with Smart Security
An integrated approach with physical security infrastructure connected to monitoring and alerting software represents the next generation of business security. Unified security and alarm systems not only secure buildings and infrastructure but also protect people and assets. What's more, smart security measures minimise risks and make your business less of a target for intruders, burglars and vandals.
It can be easily integrated with physical infrastructure (lights, videos, alarms etc) and can help identify incidents quickly and automate the initial response. It reduces manual intervention and enables you to watch over large areas effectively and identify security threats when they occur so that you can ensure your security processes are efficiently managed and monitored.
Learn How Our Smart Solutions can Help You!
Fill in you personal Data
More than 5.500 Customers from All Industries
Trust the Services of F24 in Critical Situations.
Save Lives with Silent Alarms
Not all crises are same – some are extra sensitive and need to be dealt as such. Special crises scenarios like a hostage situation, terrorist attacks, threats to lives and assets are sensitive scenarios and need quick yet subtle response. Silent alarms are most effective in these kinds of situations – notifying responsible authorities immediately yet not endangering the sender in any way. Enable your employees to safeguard themselves and further values by integrating silent alarms in your security systems to stay prepared for all kinds of scenarios.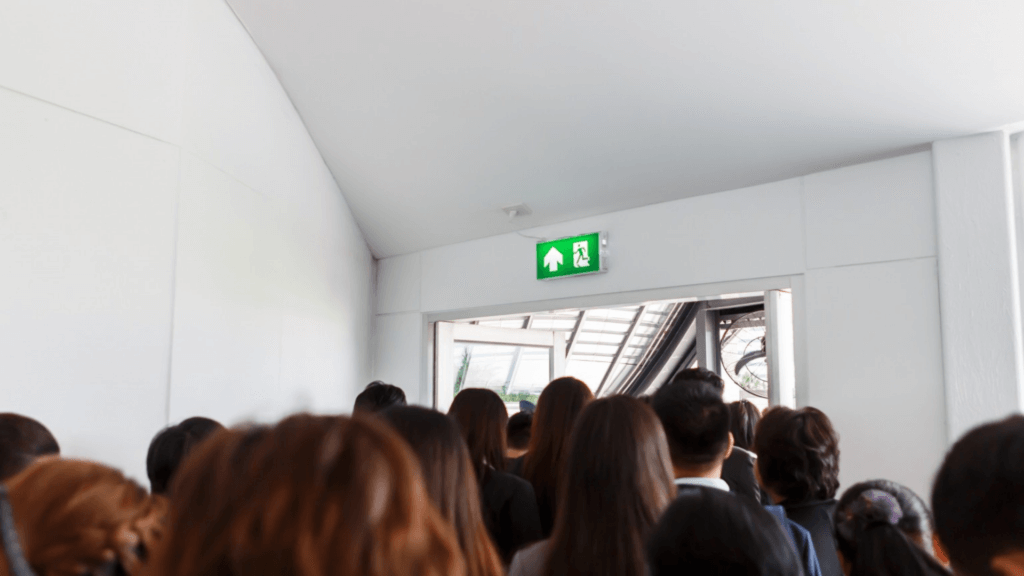 Evacuation Alarm
When a fire breaks out, or there's a natural disaster or amok, you only have a few minutes to evacuate a building. Within this time, the fire must be detected, the persons at risk must be alerted and asked to leave the danger zone.
With an evacuation alarm, organisations can initialise the process manually or automatically. The system uses the infrastructure already available to give employees visual and audible evacuation instructions on their smartphones or play announcements by means of IP loudspeakers and central PA systems.
Related Solutions
Product Finder
Find solutions that can suit your needs in case of emergency.
F24 SaaS-Solutions
Check out our range of smart solutions.
People Safety
Protect and safeguard your people with our smart solutions.
Our Smart Solutions for Modern Business
Is your business ready for a smart solution? It does not matter if you already have physical security infrastructure management in place or not, F24's solutions for emergency notification and crisis management can enhance your business security. Talk to one of our representatives today to find out more.
Learn How Our Smart Solutions can Help You!
Fill in you personal Data
What Are the Benefits of Smart Security?
Smart security is controlled by secure and reliable software that can be configured and upgraded to ensure you always have latest, most up-to-date version.
A smart security solution can also be deployed for access control. For example, a server room can be easily secured by installing a key card entry system to ensure only authorised personnel have access to servers containing sensitive data. Once connected to back-end software, access can be logged centrally, giving companies extensive logs of movements within buildings. By limiting and registering access to restricted areas, a company can comply with any safety and security requirements as laid down by government or insurers.
Smart security also automatically logs infrastructure monitoring and alerting activities to give an overarching overview of the progress and response to an emergency. These logs can be analysed after the event to identify if any improvements should be implemented, or lessons learned. Learn more about how SaaS can help modern day security processes.
How Should Smart Security Solutions Be Deployed?
To maximise the effectiveness of smart security solution, companies should deploy monitoring technology in key locations across a site. Thanks to WiFi, the system does not need cabling offering greater flexibility to position sensors. And by implementing access control, individual areas and buildings can be secured when not in use – for example, administration offices can be alarmed overnight while night-shift production can still go ahead in the manufacturing hall.