Lone Worker Safety Solutions
Ensuring the safety and security of lone and remote workers is a priority for many companies. Discover how you can safeguard your lone and remote workers with our software solutions.
Lone Worker Protection and Security for Your Most Vulnerable Employees
Sometimes, lone workers, or a small group of workers, need to work on their own. Working overnight or in remote, isolated or vulnerable locations can be daunting. From delivery drivers, community health workers and remote engineers to out of hours workers such as cleaners or security staff – companies have a moral and statutory duty of care to their employees. Protecting these vital workers can be difficult as they work outside the normal corporate support structures.
Learn How Our Smart Solutions can Help You!
Fill in you personal Data
Lone workers are at particular risk when it comes to emergencies, despite frequent reporting. Do you know what to do if your lone worker does not report in? Especally in lone working situations it is important that both the person and the product are not harmed.
Communicate rapidly and precisely in the event of disruptions and crises
FACT24 ENS+ is our Software-as-a-Service-solution for secure and comprehensive Alerting and Emergency Notification. It supports crisis managers, particularly in the acute phase of a critical event. Get to know FACT24 ENS+ in depth and schedule a demo:
Information Brochure "Lone Worker Solution"
Simple, smart and reliable: The lone worker solution can support you to comply with regulations like the Management of Health and Safety at Work Regulations 1999, and the Corporate Manslaughter and Corporate Homicide Act 2007 – for more safety for your employees.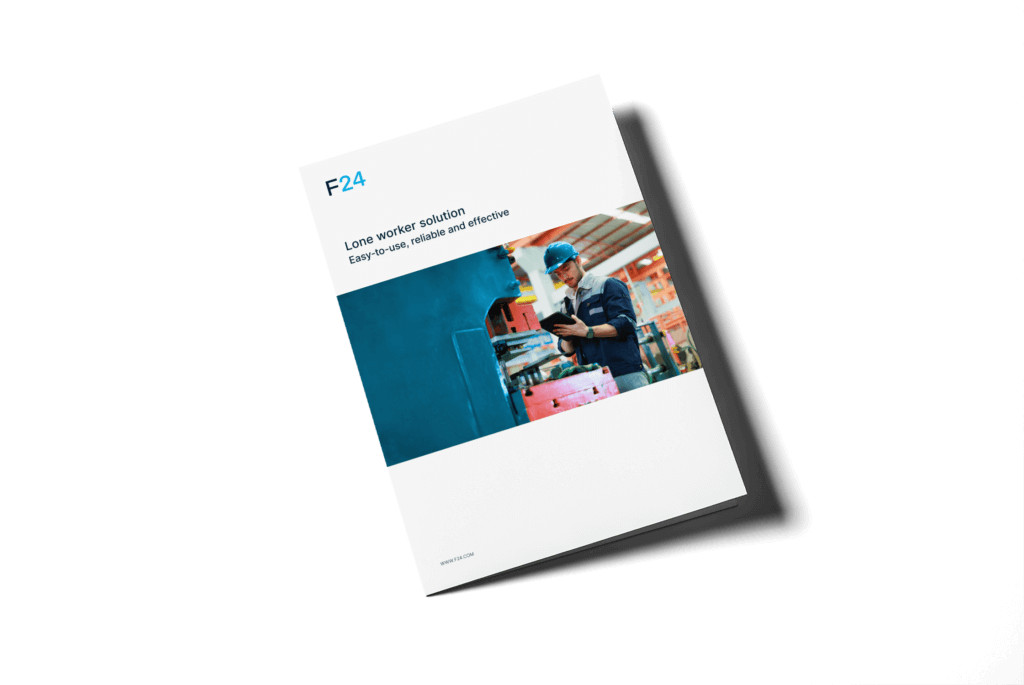 More than 5.500 Customers from All Industries
Trust the Services of F24 in Critical Situations.
Technology Enables Easy and Efficient Processes
By introducing tech-based safety and security solutions, employers can not only give their staff an extra level of reassurance and worker protection but also comply with lone worker regulations and norms.

A 'Personal Emergency Signalling System' enables you to secure and verify the location of your lone/remote workers. Our solutions include a personal emergency signal system that triggers alarms, notifies first responders and activates rescue chains. Features such as a 'man-down' alarm or scheduled control calls can help you walk the extra mile in ensuring an all-round protection of your remote and lone workers.
Comply with Legal Frameworks for Lone Working
There will always be greater risks for lone workers without direct supervision, or anyone to assist them when things go wrong. Many jurisdictions have lone worker regulations which employers must comply with. Lone working legislations that must be complied with in the UK include the Health and Safety at Work Act 1974, the Management of Health and Safety at Work Regulations 1999, the Corporate Manslaughter and Corporate Homicide Act 2007, and the Health & Safety Offences Act 2008. These laws require employers to identify the risks affecting their lone workers and put in place a solid health and safety plan to protect their lone workers from these risks effectively. The F24 lone worker solution, complies with the UK's current legal and occupational requirements, and is easy to implement to ensure reliable personal security.
Practical Steps for Lone Worker Safety
Monitor loan workers for their own safety. By introducing lone worker safety solutions, your employees can check in using a solution such as a mobile worker app. This, together with other lone worker alarms, can be integrated into an emergency response program to automate check-ins and alerts, and log responses. Alerts can be triggered via a lone worker alarm system and automated via secure software so that a response can be initiated immediately.
Our technical properties comply with the standard VDE V 0825-1 Surveillance systems – Radio staff protection systems for Lone Workers.
Lone Worker Safety Tips
Remote and lone workers, by the very nature of their work, can feel disconnected and abandoned from the main business. They may work in large locations such as warehouses which are particularly difficult to monitor during out of hours, or petrol stations which can be in remote locations or targets for criminality. It is important that employers monitor loan workers for safety and security.
Staying connected with them (e.g., via software solutions such as an app or traditional phone check-ins), helps combat the feeling of loneliness and ensures that the employee feels included.
When an incident occurs, lone workers need to have the right technology in place to deal with the emergency quickly and effectively. Lone worker safety devices and tools such as safety alarms, first aid kits and lone worker apps, should always be available. What's more, sufficient training must be given to employees for them to feel confident in using such solutions.
As the usual office support networks such as HR, Health & Safety Officers etc, are not always available to lone workers, organisations need to educate their employees, so they are aware of potential risks and hazards, and how to deal with emergency situations.
Train workers to identify high-risk situations and allow them to report incidents easily via an automated system. This easy step will help with remote safety and security and ensure you are complying with remote working regulations.
Most importantly, since lone workers usually work on their own, away from the office set up, they can feel isolated and stressed. This could have an effect on their mental health and well-being. A responsible employer should have a lone worker policy in place that empowers employees and managers by identifying and dealing with signs of stress.
Related Solutions
Product Finder
Find solutions that can suit your needs in case of emergency.
F24 SaaS-Solutions
Check out our range of smart solutions.
Emergency Notification
Learn how to benefit from software solutions in emergency situations.
Protect Your Lone Workers with F24
F24 offers lone worker solution certified according to DIN VDE V 0825-11 which is easy to implement and provides reliable personal security. This solution can be integrated into a comprehensive alerting and messaging system to co-ordinate the response. Such a response can be tailor made depending on whether the alert was activated manually or automatically, or if a check-in was missed.
Learn How Our Smart Solutions can Help You!
Fill in you personal Data