Crisis and Emergency Management for Energy Sector
Crisis and emergency management for the energy sector needs forward planning, immediate response and reliable interventions. Learn all about emergency and crisis management in the energy sector.
Stop Potentially Lethal Chain Reactions as Early as Possible
Modern life as we know it wouldn't function without energy supplies which is why crisis and emergency management in the energy sector is so crucial. Critical infrastructures must therefore make their crisis management as secure and resilient as possible and intervene as early and reliably as possible to stop these chain reactions. The range of potential dangers is wide but includes technical failures, fire, supply bottlenecks, sabotage or leakage and in every case, it is crucial to act quickly and decisively.
Learn More about Critical Infrastructures in the Digital Age
Learn How Our Smart Solutions can Help You!
Fill in you personal Data
Customers from the Energy Sector
Efficient Preparation Leads to Prevention & Recovery
A decisive success factor for professional, efficient emergency and crisis management is to be well prepared. We offer the optimum conditions for this to support crisis managers with crisis prevention, digital emergency planning, early monitoring of minor incidents, crisis management including emergency notification and task management through to regular reports and documentation. Our solutions have a multiple redundant structure ready for use anywhere, at any time, so that chain reactions can be stopped at a very early stage.
"An independent crisis management and alerting solution ensures that Alpiq remains able to act at all times, even in the event of large-scale breakdowns of parts of the infrastructure."

Head of Group Security & BCM at Alpiq
Thomas Fütterer, Crisis Staff Coordinator at Bayernwerk, on his experience with FACT24.
As the person responsible for security, business continuity and crisis management, Raphael Heldt from TOTAL Germany gives his opinion on the FACT24 crisis management tool.
Ralf Reckling is responsible for electricity and telecommunications network management at EWE NETZ GmbH and reports on his experiences with FACT24.
Related Solutions
Product Explorer
Find solutions that can suit your needs in case of emergency.
F24 SaaS-Solutions
Check out our range of smart solutions.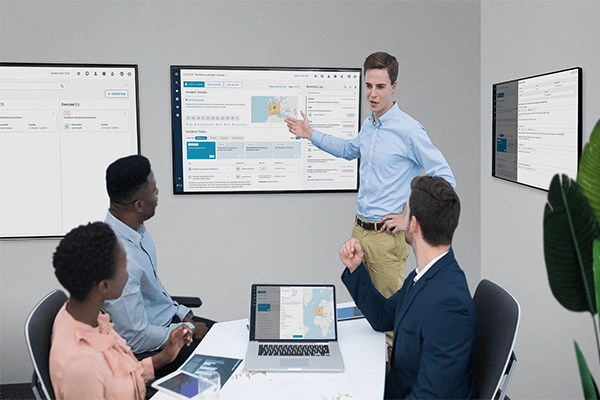 Crisis Response
Prepare and manage your crisis response with our smart solutions, designed specifically for critical situations.
Reap the Benefits on an Crisis and Emergency Management System for the Energy Sector
F24 prides itself on the flexibility and scalability of its solutions. Customers can pick and choose the solution, which suits their objectives best and each of these are highly configurable to ensure a smooth transition from your previous process to efficient digital preparedness. We help organisations of all sizes to meet the challenge of being prepared to respond. Reach out for an obligations-free call.
Learn How Our Smart Solutions can Help You!
Fill in you personal Data