Cyber Incident Response
Cyber-attack response plan is crucial for companies to manage cyber incidents and prevent them from becoming severely damaging.
The Importance of an Independent Response System to a Cyber-Attack
Cybercrimes are on a rise today. It's not a case of whether an organisation will be subject to a cyber-attack but when. The most important aspect of responding to a cyber-attack is having an independent solution. An externally hosted response and communications platform is critical when responding to cyber incidents as day-to-day telecommunications and computer systems may be locked out by hackers.
Download the Cyber Security Checklist
Learn How Our Smart Solutions can Help You!
Fill in you personal Data
More than 5.500 Customers from All Industries
Trust the Services of F24 in Critical Situations.
Ensure Your Incident Response Procedures Are Compliant
Investing in an independent, automated crisis management system shows your organisation is taking the threat of a cyber-attack seriously. Having a coordinated, rapid incident response plan is vital for maintaining brand reputation and protecting your capital investment.
If personal data is exposed, it needs to be reported to the relevant data protection authorities within 48 hours. Having independent documentation of your cybersecurity incident response will prove your crisis management and compliance procedures are second to none.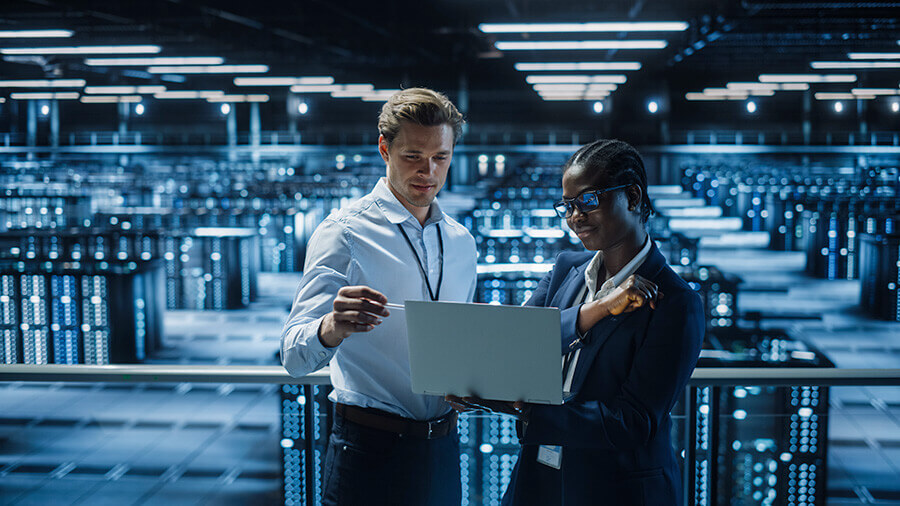 Response to a Cyber-Attack
Prepare
Train your key incident response team so they are familiar with the processes of managing and combating a cyber-attack.
Protect
Plan a level of redundancy within your alerting mechanisms so messages still get through to those that need them. If your email system goes down, you should still be able to communicate using SMS or push notifications.
Recover
If you have alerting software that records and logs actions and communications, you will be able to review your cyber-attack crisis management procedures post-incident.
F24 Solutions Enable You to Handle IT Crises with Confidence:
Act
Preventively
Digitise your business continuity plans, monitor critical issues and vulnerabilities and create automated emergency notifications.
Act
Interlinked
Combine crisis prevention, risk monitoring, incident management, emergency notification and proactive crisis management into a single system.
Cooperate in a
Coordinated Manner
Use smart emergency notification services and proactive digital task management with pre-defined checklists.
Be Capable to Act at Any Time
We contractually guarantee an availability of at least 99.5%.
Communicate Professionally
Make a fast and targeted public appearance – with templates for situation reports and communication with the media, stakeholders and the public.
Document Everything in Real Time
All events are documented in real time and according to auditing requirements – for your own evaluation or for submission to authorities.
"The only resilient alternative to being incapable of acting as a result of cyber incidents is the use of external solutions."

Juan Manuel Gil Bote, Managing Director F24 Servicios de Comunicación S.L.U. on the benefits of automation and technologically independent crisis management systems.
Related Solutions
Product Explorer
Find solutions that can suit your needs in case of emergency.
F24 SaaS-Solutions
Check out our range of smart solutions.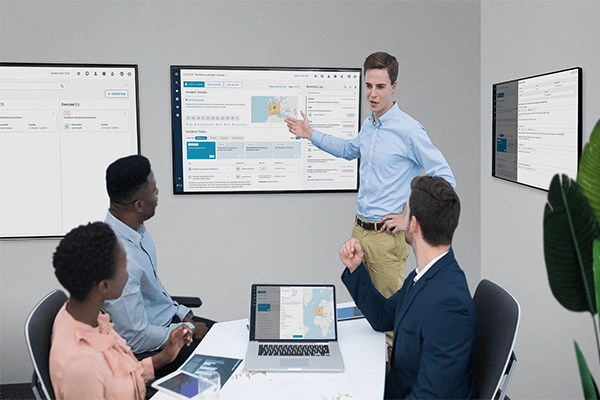 Crisis Response
Prepare and manage your crisis response with our smart solutions, designed specifically for critical situations.
Create Your Cyber Incident Response Plan with F24
Build effective incident response procedures with the help of F24's software solutions. F24's alerting system provides real-time data so you can monitor the incident response process and act accordingly. Be flexible in your response to a cybersecurity incident with F24. Contact us today to discover more about how we can support your incident response planning.
Learn How Our Smart Solutions can Help You!
Fill in you personal Data
How Do Cyber Attacks Affect Businesses?
Hacker groups are not just targeting international corporations but organisations of all sizes, including smaller companies. Increasingly, denial-of-service attacks, ransomware attacks, theft of sensitive data or hijacked communication channels are becoming a day-to-day concern and both financial and reputational losses can add up quickly.
Why Invest in a Cyber Security Incident Response Plan?
Information security should be paramount to every organisation as a personal data breach can have devastating effects on the individuals concerned and the corporations involved. Hackers are becoming increasingly sophisticated and can circumvent IT firewalls and other IT defences, so investing in a cyber attack response can save thousands in the future. An incident response plan sets out clear, defined roles and responsibilities so your incident response team can react to any cybersecurity incident effectively and efficiently.
Prepare – Carrying out exercises will also identify gaps and overlaps in procedures, helping you to hone your response by clearly defining roles and responsibilities. Keep data up to date and ensure all relevant documents are easily available within your altering system.
Protect – Invest in a solution that is GDPR compliant and offers maximum availability. When the usual channels of communication like email and business messaging are unavailable because of a cyber attack, having an independent external cloud based platform can ensure uninterrupted communications and fast recovery.
Recover- In the recovery phase it is essential to document the process. Within our alerting software, you can find automated logs that can be used to prove compliance with legal and regulatory requirements, particularly in relation to data protection.