Protecting people, assets and reputation through effective emergency response and business resilience
Friday 23rd September 2022,
Online, via the GoToWebinar platform
At F24 UK, we strive to deliver innovative ways to support all current and future clients, which is why we would like to invite you to our FREE to attend online experience event.
Join F24 and strategic partners Petrofac and PlanB Consulting in this exclusive free to attend online event for crisis managers, emergency responders and business continuity practitioners. An ideal opportunity to network with industry peers and learn about how businesses and organisations are responding to disruptions, incidents and critical events.
What does the online experience event entail?
The online event will be open to all our existing and prospective clients. During the morning webinar, we will provide you with the latest updates from F24 and our FACT24 CIM product suites, a customer case study, a cyber incident management presentation, up to date demonstrations of FACT24 CIM and more.
After the 12:10pm break, delegates will be split into two online meetings depending upon perceived product interest. Therefore, upon registering for the event, all delegates will receive an email with a GoToWebinar link for the sessions running from 9AM-12:10PM, and an additional email with GoToMeeting link either for the CIM Pro Workshop, or the ENS+/FACT24CIM Workshop, both running concurrently at 12:20PM.
Whether you are a current client wanting to interact with this exciting user forum or a prospective client who wants to find out why F24 are European leaders in emergency notifications and crisis management then do take this opportunity to register for this exclusive online event, we do hope you can join us!
Register to attend, or to receive a recording of the event!
F24 UK Experience Event: Online
Agenda
Time (BST)
Session
Speakers
09:00
Welcome and F24 Introduction
A welcome note from John Davison, housekeeping, and an introduction to F24
John Davison: Managing Director
(F24 UK)
09:10
Heterogeneous Communications
The presentation will cover how Glasgow Airport uses communications to effectively manage incidents and events as part of the AGS Managing Responsibly System. Airports have a myriad of things that can and do go wrong; however, through the use of a robust management system, we can control the event and therefore, the messages to our stakeholders and other interested parties, helping us to restore normality in the shortest timescales. The presentation will discuss how AGS Airports have managed events such as the pandemic and COP26 in 2021.
Gillies Crichton:
Group Head of Assurance
(Glasgow Airport)
09:45
Petrofac and F24: The Partner Approach
Introduction to Petrofac, and how they developed a blended and virtual response with F24 during the pandemic. Also get an exclusive insight into Petrofac's experiences of dealing with semi-remote teams, strengthening the common operating picture, and being able to provide an international capability.
Brian Plunkett:
Response Services Team Leader
(Petrofac)
Andrew Park:
Projects Team Leader
(Petrofac)
10:45
Break
10:55
Best practice incident response
A real-time operational exercise demonstrating best practice incident response, and how SaaS solutions organise your information, how easy it is to establish a complete audit trail, how you can mobilise your team, and how it can be used for keeping track of tasks and actions, and provide a single source of truth.
Jamie Milligan: Senior Sales Manager
(F24 UK)
11:30
Cyber Incident Management – Emergency Response.
Join Charlie as he discusses the links between Cyber Incidents and Emergency Response. Understand the importance of having a Cyber Plan exercised regularly and an Incident Management Team trained to respond to Cyber Incidents whilst also managing the Emergency Response element of the incident using F24 Software.
Charlie Maclean-Bristol: Director
(PlanB Consulting)
12:10
End of first webinar and break
Delegates exit the first webinar and return at 12:20 to one of the two online meetings below:
12:20
CIM Pro Workshop
New features and looking ahead with our 360° Crisis Management solution CIM Pro. An open forum with the opportunity for delegates to ask questions about CIM Pro, followed by a wrap up and close from F24 Senior Sales Manager, Jamie Milligan
Jamie Milligan: Senior Sales Manager
(F24 UK)
Erlend Lunde: Senior Product Manager
(F24 NO)
Eskil Leirbekk: Senior Product Manager
(F24 NO)
12:20
FACT24 ENS+/CIM Workshop
An introduction to our brand new ENS+ offering, exploring new capabilities we can support your business with such as lone worker safety. An open forum with the opportunity for delegates to ask questions about FACT24 ENS +, followed by a wrap up and close from F24 Managing Director, John Davison
John Davison: Managing Director
(F24 UK)
Meet the speakers:
John Davison, Managing Director, F24 UK
John Davison is the Managing Director for F-24 UK Limited for the past 10 years and is responsible for the recent growth and expansion of the business in the United Kingdom and the Middle East. With over 30 years' experience in working within the software and resilience services industries John is well positioned to utilise his vast experience in providing value led propositions.
Jamie Milligan, Senior Sales Manager, F24 UK
Jamie Milligan advises organisations across industries to implement CIM to increase preparedness and effective emergency response. Jamie has worked with clients and organisations in Energy, Utilities, Telecoms, Travel and Leisure and Local Authorities; some of the organisations he has worked closely with include Premier Oil, Southern Water, Neptune Energy, Petrofac, TUI Group, Liberty Latin America and easyJet.
Matthew Davies, Account Service & Migration Manager
Matthew Davies is the Account, Service and Migration Manager of F-24 UK and has worked with the company for over 10 years. He consults organisations of all sizes on how to optimise their Emergency Notification and Crisis Management processes through effective use of technology.
Gillies Crichton, Group Head of Assurance, Glasgow Airport
Having spent 17 years within the BAA Airport Fire & Rescue Service, with 10 years as a senior officer, Gillies Crichton has dealt with all types of emergency, contingency & business recovery situations. With over 30 years in the aviation industry, Gillies has a great deal of experience in the use of Risk Management, Fire Safety and training of, setting up and running crisis teams.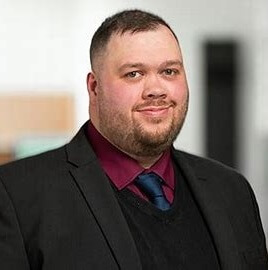 Brian Plunkett, Response Services Team Leader, Petrofac
Brian Plunkett heads up Petrofac's Global Emergency Response Service Centre, looking after the various outsourced ER services that Petrofac provide. Prior to joining Petrofac, Brian spent time in the emergency services, beginning with the Police, and then latterly the Maritime & Coastguard Agency.
Steve Witte, Projects Team Leader (Crisis Management) Petrofac
Steve Witte has 10 years' Police service in a variety of uniformed and Detective roles, with 9 further years at Petrofac, providing training, exercise and consultancy services to clients involved in oil and gas exploration activities around the globe. Trained in different onshore response roles, Steve heads up delivery of Petrofac's various HR Emergency Management service lines.
Charlie Maclean-Bristol, Founder, PlanB Consulting and Business Continuity Training
Charlie Maclean-Bristol is an experienced consultant in business continuity management, crisis management, ISO 22301 and Crisis Incident Management. A former Business Continuity Institute board member and one of the very few Fellows of both the Emergency Planning Society and the Business Continuity Institute.
To sign up for the webinar, please register above, via the form on this page. The F24 UK Marketing team will get in touch via email with confirmation of registration and a link to the webinar. The event is open to more than one delegate per organisation so if you have any colleagues who would like to attend, then please enter their contact details as well.
Unable to attend the webinar? Register, and a recording post-event will be sent to you!
We look forward to welcoming you to the online conference!